Product Information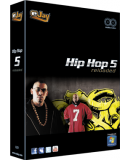 eJay
Hip Hop 5 reloaded - Downloadbuyer Special
eJay Hip Hop is back at its best, giving you the tools to get your rap sorted like you always wanted.

You don't have to be a musician, just take your pick from the vast array of sounds and effects.

Of course you can also create your own sounds and get scratching professionally.

SRP: $33.41
Your price: $27.85
You Save: $5.57 (17%)






no user ratings