Product Information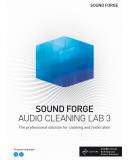 Magix
MAGIX Sound Forge Audio Cleaning Lab 3 - [Download]
The new SOUND FORGE Audio Cleaning Lab 3 is the ideal tool for easily digitising, cleaning and restoring
audio recordings. The high-performance audio restoration software boasts high-quality cleaning and
mastering plug-ins, intuitive operation and fast results in captivating hi-fi sound. Experience your treasured
vinyl and cassette collection in clear and professional sound.

SRP: $99.19
Your price: $82.66
You Save: $16.53 (17%)






no user ratings