Product Information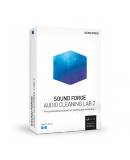 Magix
MAGIX Sound Forge Audio Cleaning Lab 2 - [Boxed]
The new SOUND FORGE Audio Cleaning Lab 2 is a specialized tool for easily digitizing, cleaning and restoring audio. The program features high-performance plug-ins for audio editing as well as intuitive operation,
enabling users to achieve outstanding, professional results. Experience your treasured vinyl and cassette
collections and recordings of music, video and digital radio recordings in captivating hi-fi sound today.

SRP: $99.19
Your price: $41.33
You Save: $57.86 (58%)






no user ratings