Product Information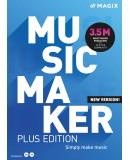 Magix
MAGIX Music Maker 2021 Plus - [Boxed]
Discover the intelligent tool for creating a song in 5 easy clicks – the new Song Maker in Music Maker Plus
Edition. It's music making made simple – build premade beats and melodies to easily create completely new
songs of your own. All Music Maker loops are available in 7 different pitches and are inspired by a wide range
of genres.

SRP: $60.76
Your price: $30.99
You Save: $29.77 (49%)






no user ratings