Product Information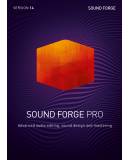 Magix
MAGIX Sound Forge Pro 14 - [Download]
SOUND FORGE Pro 14 is the ideal software for musicians, producers and sound designers. The SOUND
FORGE audio engine has been further developed and ensures ultra-precise results for sample accurate
editing, restoration, post-production & mastering. A wide range of effect processors and fast, performance enhancing workflows let you achieve seamless results.

SRP: $370.76
Your price: $277.97
You Save: $92.79 (25%)






no user ratings